Cool Blue provides design & construction solutions for office buildings, retail centres, industrial complexes, hotels, schools, clubs and residential high rise.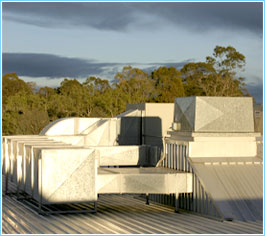 Cool Blue has a team of dedicated engineers whose aim is to provide energy efficient, cost effective and progressive solutions to all applications of the HVAC industry.
The air conditioning industry is continually faced with new challenges, design constraints of clients, government legislation and environmental issues, such as global warming (green house gases). This is why it is in our best interest, as well as the clients, to be at the forefront of technological developments in our industry. In this way we are able to offer the right solution for each application, of each project.
By placing an emphasis on high levels of communication and information flow and providing expert service with a genuine concern for client needs Cool Blue are able to deliver projects from energy efficient multi storey buildings, to single unit split systems, both on time and with an emphasis on quality of workmanship.
• Central plant
• VRV systems
• Split systems
• Boilers/ Hot water heating systems
• Chilled water systems
• Packaged A/C
• General office A/C

• Ventilation
• Kitchen exhausts
• Exhaust systems
• Mechanical Plumbing