Cool Blue provides design & construction solutions for office buildings, retail centres, industrial complexes, hotels, schools, clubs and residential high rise.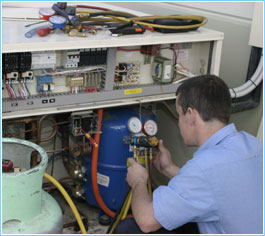 Protect your investment with Cool Blue programme maintenance.
Your air conditioning system is a major capital investment. You can protect your investment with a programme maintenance which will keep your equipment operating at optimum performance.
The benefits of keeping air conditioning equipment in peak operational condition through the implementation of a maintenance programme are direct and indirect. The direct benefits being that the system will operate continually for longer periods of time avoiding costly breakdowns and disruption to the client business. Indirect benefits of a system which is maintained regularly are that equipment operates more efficiently and operating hours will be reduced, thus large savings in energy costs can be achieved. A well maintained air handling system creates a healthier environment for employees and avoids the potential of sick building syndrome, saving businesses excessive sick leave.
An air conditioning system which is not maintained is a liability to business.
• Building energy audits
• Air balancing
• Filtration
• Water treatment
• Hot water boilers

• Building control systems
• Air analysis (sick building syndrome)
• Duct cleaning
• Mechanical services
(including hydraulics)